PAPAU NEW GUINEA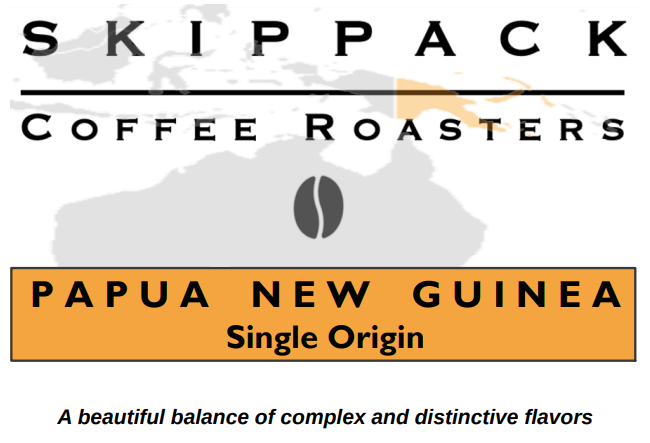 PAPAU NEW GUINEA
This bean can be difficult to find, so you may not get many opportunities to enjoy a coffee like this!  

This is a Microlot - which means it was handpicked by the farmer and set aside to be sold at a premium. Microlots are extremely rare out of PNG.

PNG coffee has a beautifully distinctive taste, but here's the cool part...this coffee has amazing flavors when roasted either light or dark.  Unique and delicious, so you decide!

Light Roast

: F

ruity and savory - we get hints of mango, with roasted fennel and chocolatey finish. A very smooth and buttery mouthfeel.

Dark Roast

: Less sweet, more body with an earthy and herbal smoothness. Bold yet balanced.

DIY....PNG is a small Indonesian country just north of Australia. It 

is one of the most environmentally and culturally diverse places on earth with more than 850 spoken languages!  PNG's towering mountains and lush, volcanic soil have contributed to its reputation for producing interesting and unique coffees.
Papau New Guinea
Great coffee great company! When I had a question about my coffee delivery it was at my door the next day. I am already looking forward to my next order. Thank you!
Highly Recommend
It's delicious no matter how you make it! Any coffee fan would love getting this.
Better than La Colombe
Excellent single source coffee! Since Covid single source are hard to find. And love that Skippack Roasters are local.
Papau New Guinea
I had this coffee dark roasted, love the flavor. Not overpowering, subtle flavor but delicious with no aftertaste. Highly recommend for people who shy away from the Dark Roast.
Papau New Guinea
This has always been a favorite whole bean of ours but hard to get so we were so excited when available and we were not disappointed. It is a smooth, full flavored dark roast with no bitterness. Thank you.