EVANSBURG (Medium/Dark Roast - DECAF)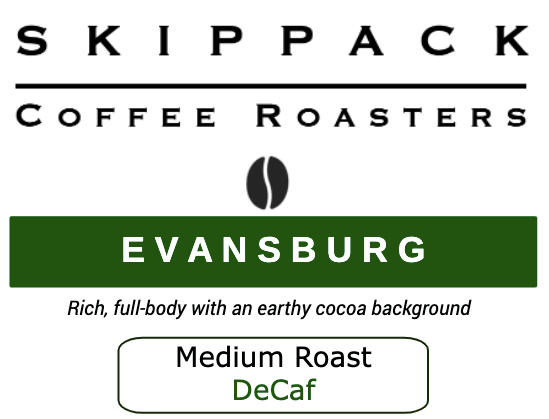 EVANSBURG (Decaf)
This is a blend of Decaf Sumatra (70%) and Decaf Honduras (30%) and is just about the most full bodied and flavorful decaf we've ever roasted.
As a general rule, decafs taste best when roasted dark, so Sumatra is naturally a good choice.  The classic full-body earthy richness of the Sumatra is rounded off with a background hint of natural sweetness from the Honduras bean.
For those concerned about the use of chemicals in the decaf process, both the beans in this blend used chemical-free Swiss Water Process (Sumatra) or Mountain Water Process (Honduras). 

The beans used in this blend are one of the few Decaf beans that are available with Fair Trade and Organic certification.
For half-caf drinkers, this will give plenty of body, so mix with a light or light/medium roast and it's just what you're looking for!
Delicious!!
Coffee is delicious and delivery is so easy!
Wonderful!
I've purchased this a few times and it's amazing.
Favorite Decaf
It's hard to find a good, bold, decaf so I used to order it online. Then I tried the Evansburg roast from Skippack and now I'm excited that I can buy it locally. It's a great daily cup of coffee and and even better afternoon treat.
SCR Service
Love The Service - I only bought a pound but they custom ground(extra fine) and custom roasted(French Roast) it.
I will buy again.